Bathroom Remodeling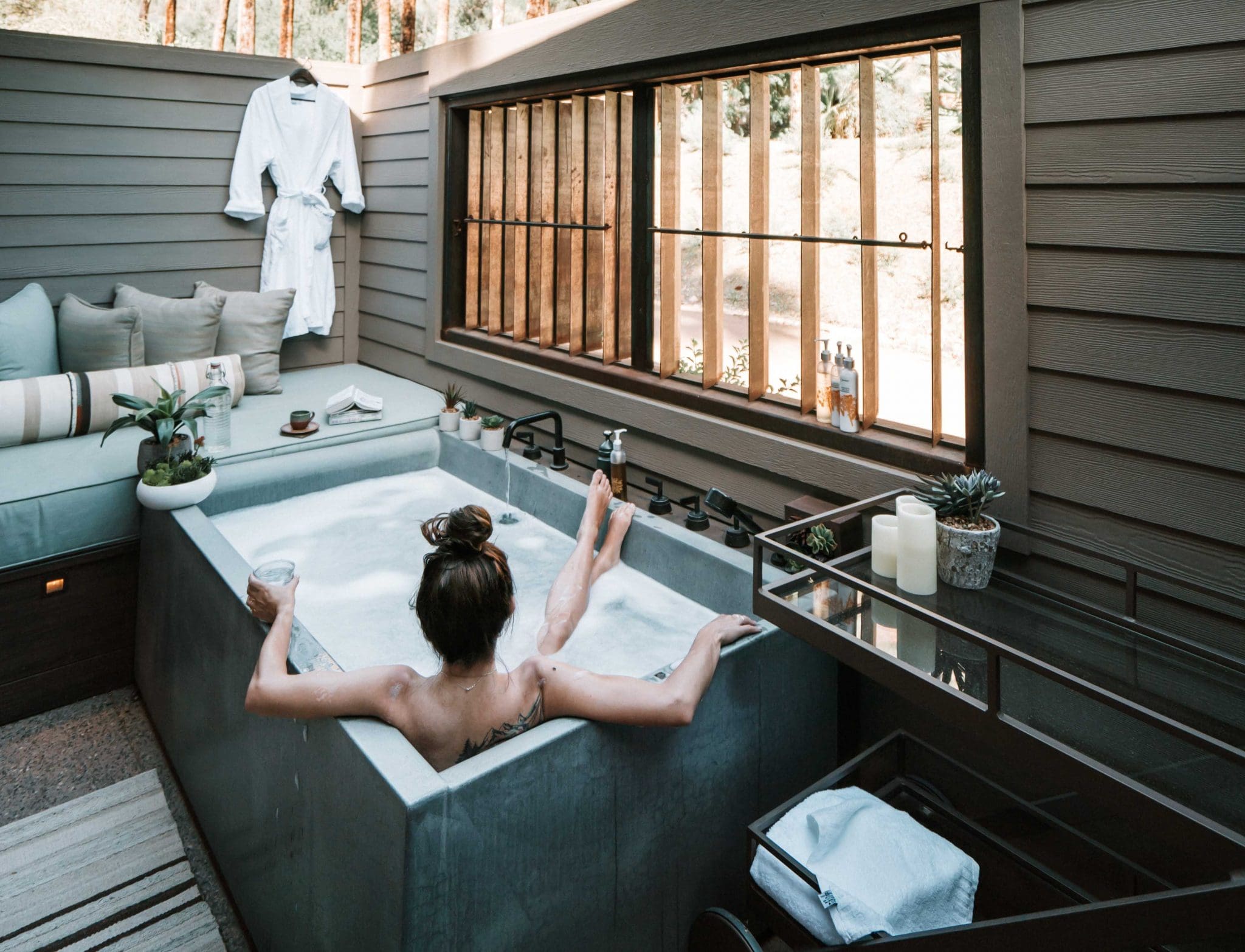 At Realty Improvement, having been in the home building and renovations space for a number of years now, we have seen the ins and outs, of the home remodeling world. And while very few things can still truly surprise us and our team, one of the most confusing things, that still seems to surprise us, is how often people involved in the home building and home renovations industry, neglect the most vital areas of the home remodel, in favor of less substantive, far more flashy things like unnecessary moldings, and redundant appliances, or a relatively cheap "smart-thermostat". The fact is that when it comes to the world of home renovations and home remodeling, the two most vital, and therefore, money-making areas to focus on, are the kitchen and bathroom remodeling. In our previous article, while we mentioned that the kitchen is the place where families tend to spend the most time, the bathroom isn't that far behind, and all too often, individuals look to the bathroom for a place of solace – whether they are actually using the bathroom or not – it is often a place for contemplative thought, where individuals want to feel clean, comfortable, and relaxed. According to the team at Realty Improvement, putting money into a bathroom remodel can drastically increase your property value, especially if you use quality items, that have aesthetic value, as well as functional value. To better help ypu understand the best means to spend your money on a bathroom remodel.
Create a Budget – And Plan Your Remodel Out
When you get the opportunity to transform your home into the exact style you want, you're making an investment in your property and yourself. Home and bathroom remodeling can cost as much as you let it, and without a solid budget, costs can spiral. The solution is to research local custom-building costs, set a realistic budget, and then try to stick to it. This is made easier if you choose a remodeling contractor or design-build firm that offers fixed pricing rather than estimates. Bathroom remodels can get expensive quickly, mostly due to labor costs and, to a lesser extent, materials. Top bathroom general contractors and the licensed subcontractors they work with are highly skilled professionals, and they are in demand. If you want to upgrade your existing bathroom to higher-end materials, you'll need to factor in the cost of everything from tiles to a bathtub.
In order to create a proper budget, a few things to keep in mind:
Are you looking to sell your property, or possibly create a cash-flowing, rental property within a few years?
Are you willing to perform any major plumbing work, such as changing the location of a sink, toilet or shower?
What aspects of the new bathroom are absolutely essential?
How much can you afford to invest into one or more bathrooms?
Identify the Type of Bathroom You Want to Design
Bathrooms come in a wide range of shapes, sizes, and layouts. Chances are, you probably won't change the type of bathroom when you go to remodel. However, it's a good idea to look at all your options before you set your ideas in stone (or grout!). An experienced interior designer can help you see possibilities that you might have missed. For instance, a cramped half bath could be transformed into a luxurious master suite just by borrowing some space from a walk-in closet or bedroom.
Standard Bathroom: A standard bathroom or full bath is one that contains a sink, toilet, and a bath, shower, or both. Some older homes were designed with just one full bathroom that the entire family was meant to share. Master bathrooms, with an essential built-in suite have the same basic features but are accessed via the master bedroom. Homeowners remodeling or adding a master suite often go for a luxurious spa-like vibe. Think skylights, a soaking tub, and separate steam shower. A properly designed master suite can be a rejuvenating escape at home.
Half Bath: A half bath, sometimes known as a powder room, is a small space that has only a sink and a toilet. If you live in an older Seattle home that has only one full bath, your life could really improve by adding a half bath. If you have guests over for dinner, they can use the powder room and not have to invade your personal bathroom space. Likewise, if you have house guests staying over, it can take some of the pressure off your main bath if you're all trying to get ready at the same time in the morning. One of the best things about a half bath is that it doesn't require a big footprint. We've fit half baths in the tightest of spots, including closets and unused corners. Adding a half bath can be an easy way to boost the value of your home as well as make your life easier.
Wet Bathroom: A wet bath is a type of full bathroom where the shower isn't in a separate cubicle or behind a curtain. Wet baths are completely waterproofed, including the floor, cabinets, and walls. Creating a wet room is one of my favorite approaches to bathroom design. It can look sleek and modern, without any cumbersome shower doors to get in the way. But it is also eminently practical. Because they are fully waterproofed, you don't have to give a second thought to water splashing on the floor or walls. Wet baths also lend themselves well to universal design principals because there are no curbs or other obstacles that keep someone with limited mobility from passing safely into and out of the shower. A big advantage of a wet bath is that they make efficient use of space. If you are remodeling or adding a bathroom to your home, square footage can be precious, and a wet bath approach lets you fit more into a smaller room because you don't have to devote space to a shower frame or stall.
Create a Layout for the Bathroom First
This is similar to the planning phase, and should essentially be a part of it as well. Once you have decided upon the number of bathrooms, you are willing to renovate or build, and where they will be, and what type of bathrooms they will be – it is time to create a layout for your installation – and identify where everything will go. Its best to plan out everything, not just the toilet, shower and sink, but things like a potted plant, a hair dryer, towel racks – while these things are movable, having an initial area for them will help you to better visualize the process first. Also, try to develop an understanding of the aesthetics and any décor or items that are simply there to improve the look and feel, as well as the comfort for the individual using the bathroom – amenities can go a long way in a home bathroom!
Do You Want a Bathtub?
This is an important decision to make, and should be a vital part of the planning phase, as it can take up quite a bit of room. Traditional bathrooms usually have bathtubs, but our need to soak seems to be in decline. Maybe it's because life is getting quicker, but most Americans now prefer showering over taking a bath. Baths also use a considerable amount of water compared to showers. If you're the kind of person who takes full advantage of the utter relaxation a bath can provide, then fitting it into your bathroom remodel will be a big yes. Luxury bathtubs are best in a master bathroom, with a suite where you can soak in peace, away from anything else going on in the house. If you want to sell your property anytime soon, it might be a good idea, especially if the home is somewhat of a luxurious home and more than just a functional property, to keep one bathtub, in the master bathroom.
Lighting Works Wonders
Lighting is something that a lot of people forget about when designing a new bathroom. But you'll instantly recognize bad bathroom lighting when you see it, and it can completely destroy the look and utility of the space. There are a few important things to concede, especially when it comes to a bathroom.
Natural Lighting: Nothing makes a bathroom feel brighter and airier than ample natural lighting. If possible, try to incorporate plenty of windows and maybe a skylight into your design. If the design of your home isn't conducive to a traditional skylight, you might still be able to use a tubular skylight. Having a natural lighting scheme around the mirror allows you to see what you'll look like when you step outside and gives true representations of color and skin tone.
Artificial Lighting: Of course, no matter how good your natural lighting plan, the sun sets every day, and you'll need an equally good artificial lighting plan. Thinking in terms of layers is a good start. Recessed LEDs on a dimmer switch can provide ambient light, but remember that overhead light can cast shadows on the face, which isn't pleasant. For this reason, be sure to layer in soft lighting at head level at the vanity. Some modern vanities have built-in lighting that provides pure, broad-spectrum light that gives your skin a natural appearance. Avoid harsh light sources and bare bulbs.
Ventilation is VITAL
Especially important within a bathroom, ventilation can make or break your bathroom. Bathrooms are naturally prone to dampness, and this problem is even worse in humid Seattle. If your bathroom has a shower or tub, building code requires adequate ventilation. All bathrooms need excellent ventilation to keep occupants in good health and prevent mold from growing. Mold spells big problems for bathrooms and, if left untreated, can stain and do expensive damage, especially in hidden areas. Ventilation works best as an exhaust fan, windows (more than one), and window vents.
When it comes to bathroom renovations, we can go on and on for days to be honest – as it is a close second to the kitchen, when it comes to being the most important room(s) in any home, especially when it comes to a home renovation project that you are looking to make money from. For more information on your next bathroom remodel, or home renovation project, be sure to contact Realty Improvement today.